Faversham House welcomes Kylie Knight and The Beauty Room. Kylie is a qualified beauty therapist, nail technician, hair stylist and make-up artist with 25 years of experience.
The interaction between beauty therapist and client is one to one and offers opportunity to form a therapeutic relationship which is primary to the treatment itself. Treatments can be relaxing and carthartic for some as they provide an opportunity for conversation and touch which both enhance the quality of life for our residents and offer much needed one to one personal interaction. The benefits of beauty therapy are revealing themselves throughout Faversham House:
"One lady's family had purchased her a treatment for Christmas and this lady was somebody who would never do something nice for herself.

I was given instruction not to tell her what it is until I picked her up. So she knew something was happening but she didn't know what and when I arrived at her room and explained a bit more to her she was slightly disappointed because she thought a Cadillac was coming!

Then was hesitant once she was in the salon to have the treatment and I explained she didn't have to but it's an enjoyable thing to have done, after talking a while decided to have it done and was just so thrilled and could not believe she had waited this long!

She had her first manicure and facial at 94 years old."
"Another lovely client who won a gift voucher and had her first facial treatment at 102 years old and she was ecstatic and she wondered "Why did I wait this long?"

I think that a lot of this generation didn't spend a lot of money on these types of treatments so to be experiencing them now at this age for the first time is a really special thing and I feel quite privileged that they are allowing me to do this."
Daughters often bring their Mum's to the salon to have treatments together such as manicures. The salon offers a great environment for that bonding experience, with gentle music, tea and coffee, a wide range of nail colours to choose from and luxurious sea based natural products for the skin.
Having Kylie and The Beauty Room based in Faversham House provides ease of access for the resident, rather than travelling externally to receive this service and having to navigate the weather, car parks, wheelchairs, incontinence, just to have a Mum & Daughter day they are able to take the lift downstairs to the salon when it suits them. It is a lot less tiring and stressful for both the resident and their family.
Have a look at The Beauty Room Price List by clicking the image below.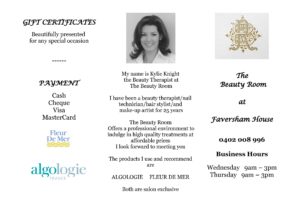 Gifts
Gift vouchers and Gift packs are available to purchase for a loved one
Hours
Wednesday: 9am – 3pm
Thursday: 9am – 3pm
To make an appointment
Call or Text  0402 008 996
or See Kym at Faversham House Reception
Faversham House
27 Shierlaw Avenue,
Canterbury, 3126