COVID-19 Update:
Maranoa House Dementia Day Care Centre and The Maranoa Club are open following strict guidelines.
Please contact Maranoa House on 03 8809 4979 if you have any queries or concerns.
Maranoa House offers a range of programs to suit the abilities of people with mild, moderate or severe dementia. Our service is one of the few of its kind and is provided in a welcoming, secure and homely environment within a charming garden setting. We operate 6 days per week, which offers an invaluable respite option for carers.
Our clients often feel like they are coming home, which is the experience we hope they enjoy every time they visit.
The three primary programs that operate from Maranoa House are:
planned activity group
an overnight & evening respite program
the Maranoa carer's group
Anyone in the community may refer prospective clients who live in the Municipality of Boroondara or surrounds and are cared for at home.
Contact the Manager of Maranoa House on (03) 8809 4979
View or Download Maranoa Dementia Services Brochure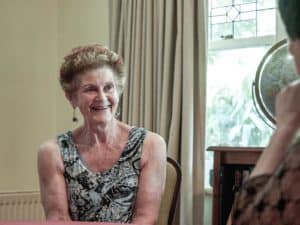 "Seeing someone with Dementia come alive inside and engage again, with a smile that reaches their eyes. I am fortunate to have these highlights occurring on a daily basis"

Maranoa House
Manager Faye
Day Activity Program
The adult day activity program operates 6 days a week and provides activities to suit the abilities of people with mild, moderate or severe dementia. This program focuses on socialisation whilst also providing invaluable respite for the carer.
Programs include:
In House Program
Going Out Club
The Italian Program
Just Blokes' Group
Younger on-set dementia program
Evening Care (Wednesday Only)
Overnight Care (Wednesday Only)
The programs are conducted Mondays to Saturdays from 9:30 am to 3:30 pm. The 'Going Out Club' meets Wednesdays and Fridays. A small fee is charged to cover a hot midday meal, morning and afternoon tea and restricted local bus transport.
Incontinence, wandering and other behavioural changes do not exclude people from the programs, however, mobility is desirable. Occasional supervised care before and after all weekday programs is available on request.
If you have a friend or relative who would like to attend the day activity program you need to contact the Manager of Maranoa House on (03) 8809 4979 to facilitate a My Aged Care assessment.
Maranoa Carers Group
The task of caring for a person at home often falls to a close relative or a friend and can be complex and demanding – and often made more difficult through the lack of understanding and support.
Carers often find their life is no longer their own, their relationships are put on hold and their leisure time gradually disappears. The people who are most likely to know how to help and who understand how you are feeling are those who have had similar experiences.
The Maranoa Carers Group offers support in a number of ways.
Find out more about the Maranoa Carers Group
Overnight & Evening Respite Program
An Evening and Overnight Respite Program for up to three clients per night operates on Wednesday evenings and nights. The program operates at Maranoa providing a familiar environment. Anyone may refer prospective clients who live in Boroondara or surrounds and are cared for at home.
Volunteering at Maranoa House
If you are interested in Volunteering for our Dementia Services team please visit our Volunteer Opportunities page.