Accomodation
Care and Support
Kitchen and Menu
On-Site Facilities
Accomodation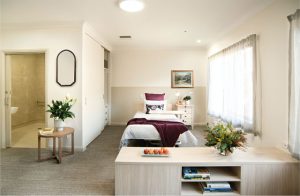 Ageing in place
165 Single rooms with en-suite
10* Superior rooms with en-suite.
* Superior rooms are a larger room suitable for single occupancy
All rooms offer individual heating and cooling
All rooms provide access points for Phone, Television, Foxtel and Wi-Fi* network connection.
* Guest Wi-Fi connection available upon request
All rooms are equipped with a suitable bed, lockable drawer and over bed table
Specialist and Allied health Aged Care Services
Whatever the need, our carers are here to help. We understand that every resident is unique which is why our care is tailored to the individual. BASScare has highly qualified staff to assist with providing the best quality of life to our residents and are skilled in providing care for the following:
Respite Care
Dementia Specific Unit
Palliative Care
Physiotherapy
Speech Therapy
Specialist Dentist
Podiatrist
Dietician
Wound Consultant
Optometrist
Geriatrician
Psychologist / Psychiatrist
For more information on our Respite Care, Assisted living Unit, Palliative Care and Permanent Aged Care, please see our FAQS section.
Kitchen and Menu
Our state-of-the-art kitchen facilities at Faversham House allows our dedicated team to provide a varied, balanced and,- above all – delicious menu with a particular focus on fresh food and high quality, home-style cooking. All meals are planned in consultation with a dietitian to ensure they meet adequate nutritional standards. Family and friends are encouraged to join their loved ones for a meal, and our residents are also invited to participate in food forums and menu planning, ensuring all cultures, religions, flavours and preferences are considered.
On-Site Facilities
We have designed our community facilities to foster socialisation and bring people together, while also providing plenty of quiet nooks to enjoy one's own company. These shared spaces are full of light and offer an ideal environment for all residents to meet new friends and spend time with family. Sit down for coffee in our café area, indulge in a bit of luxury at our hairdressing salon and beauty therapy room, take on the grandchildren at our remote control car circuit track, or enjoy the simple pleasure of reading a book in scenic garden whilst listen to the trickling water feature. It's not enough to cater to people's needs; we want our residents to relax and to be able to do things they've always enjoyed doing.
Assisted Memory Unit
Lifestyle
Management
Church
Assisted Memory Unit
A diagnosis of dementia affects the entire family. Caring for a person with dementia is unlike caring for someone with any other condition or disability, due to its complex, unpredictable and progressive nature. At Faversham House, we have an "Assisted Memory Unit" (ALU) which provides safe and attentive care for residents with dementia. Specifically designed for this pivotal area of need, it has its own secure garden area and activity lounge, where we run appropriate, engaging and tailored lifestyle programs each day. All staff at Faversham House are specifically trained to care for people with dementia. They understand the complex nature of dementia, and that people with dementia experience a different reality to what we experience and believe in it just as strongly as we believe in our own.
Lifestyle
The Lifestyle team at Faversham House delivers an extensive program to meet individual interests, cultural backgrounds, and all social, emotional and physical abilities. Creating a lively and engaging environment for our residents is vital in supporting their mental and spiritual wellbeing. With numerous activities to choose from, including Arts and Crafts, Pet Therapy, visits from schools, library services, Happy Hour, brain games, exercise classes and bus outings, our lifestyle team provides plenty of opportunities for our residents to get out and about while enjoying the company of others. Checkout our Newsletter…
Continuous Improvement
No system is perfect, which is why our management system is designed to improve continuously. The Aged Care Quality Council's ongoing audit program ensures Faversham House is externally and independently assessed.
Church
All faiths are welcome at Faversham House. Ministers from Catholic, Anglican and Uniting Churches conduct regular services in a dedicated private space for our residents.
Location
Hairdressing & Beauty Therapy
Dining & Function Rooms
Outdoor Recreation
Location
The location of Faversham House is, in a word, enviable. Situated in the leafy suburb of Canterbury, within walking distance of Canterbury and Chatham Stations and Maling Road Shops where you will find cafes, retail stores and a post office for easy access to everyday necessities. Additionally, Faversham House provides onsite parking, including disabled parking spaces and sheltered pick up and drop off areas.
Hairdressing & Beauty Therapy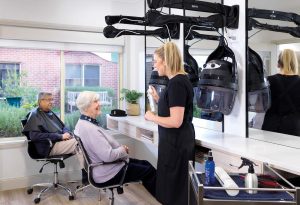 We all know the positive effect a good haircut can have on us. A new hairstyle can be liberating – a new look and a new way to present ourselves to the world. Our fully equipped Hair Salon and Beauty Room is the perfect place to receive a little pampering, and get a new lease on life. Given the therapeutic nature of a beauty treatment, the relationship between therapist and resident is a special one that is just as important as the treatment itself. While the treatment can be relaxing and cathartic, it's the opportunity for conversation and touch which enhances our quality of life and provides essential one-on-one personal interaction. The salon offers a great environment for that bonding experience, with gentle music, tea and coffee, a wide range of nail colours to choose from and luxurious sea-based natural products for the skin. Click for more…
Dining & Functions Rooms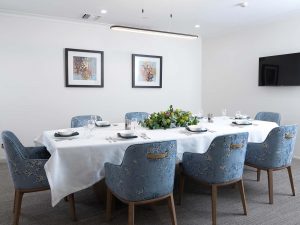 An integral part of Faversham House is the main dining areas. Across Level One and Two of Faversham House, our main dining areas are finished in natural tones and flooded with natural light. It's the place where residents gather to enjoy home style cooking over a chat with their fellow residents. There's also a breakfast station where residents can readily access cereals, tea and coffee. A private dining room is available, too, for small functions, and we are always encouraging our residents to host their friends and family in this dedicated space. Whether it is for a special celebration, birthday or an intimate gathering, we can provide on-site catering to make the event special.
Outdoor Recreation
There's nothing quite like outdoor spaces to promote and nurture a healthy mental and emotional wellbeing. At Faversham House, we've put a lot of time and thought into creating peaceful and welcoming green spaces where residents can do a bit of reading or simply sit and enjoy fresh air. We also understand the importance of family and have several fun and engaging activities to get the grandkids involved, including a putting green, miniature bowls and even a remote-controlled car circuit (which we are continually shooing staff away from).
Lounges & Sitting Rooms
Activity Room
Kiosk
Laundry
Lounges & Sitting Rooms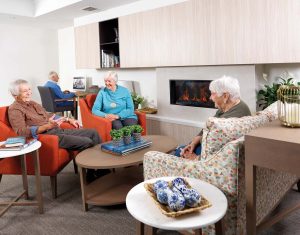 Our lounge and sitting areas haven been designed for optimum comfort, entertaining and socialising. Scattered throughout Faversham, these spacious and restful areas are filled with natural light and tastefully furnished with arm chairs and sofas designed to provide maximum support and comfort. The warm color pallets of yellow and blue create a retreat for quiet respite, where residents can relax and read, discuss what's happening in the world or participate in games and activities. Some designated areas also feature televisions (with Foxtel) so that residents can stay up-do-date with the news, sport or binge on their latest favourite show. The Wisteria Lounge has a large screen for theatre style movie watching.
Activity Room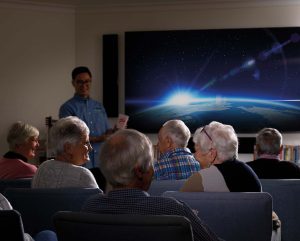 A multipurpose room where residents can participate in meaningful, social activities and lifestyle programs. Whether it is art & craft, Bingo, church services or individual and personal activities. The activities room can also accommodate events or dining and social activities such as cards or board games with other residents, family or friends.
Kiosk
Our small volunteer-run kiosk provides residents an opportunity to purchase various supermarket treats whenever the mood strikes them. It's also proven to be a big hit with the grandkids when they pop in for a visit. A trolley service is provided on Thursdays for residents unable to attend the open layout kiosk in person. Orders are also taken for special items which aren't usually stocked.
Laundry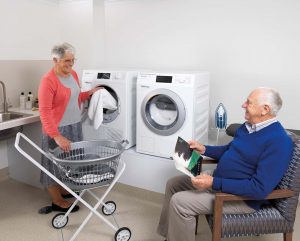 The laundry facilities at Faversham House will take care of resident's personal items, sheets and towels on site. Laundry facilities are also available for the residents to use themselves if desired. You may ask why anyone would want to do laundry if they didn't have to, but this facility is just another way we smooth the transition for our residents and make their time with us as much like home as possible.
Tovertafel
Animals
Garden & Courtyards
Safety Zone
Tovertafel
For many people with dementia and their loved ones, doing something fun and active together can pose a real challenge. The impact of the Tovertafel – a game-changing innovation that projects playful interactive games onto a table – has already far exceeded expectations, with staff at Faversham House calling it 'magical'. Prompting memories and conversation about everything from gardening to trips to the country, the games have been developed to need only those cognitive processes and 'perceptions' that remain intact even in the late stages of dementia, stimulating increased movement and social interaction.
Animals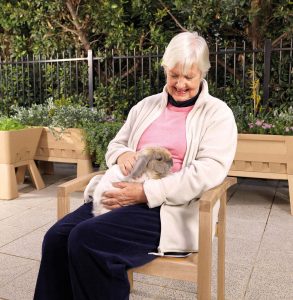 Moving to a new place is often stressful and draining. Moving into an aged care facility is no exception, and the experience can be particularly painful for those who have to part ways with beloved pets. Faversham House has its own resident furry therapists. Peta and Charlotte (Charlie for short) have been a huge success, coaxing numerous clients to reminisce about their own bunny, the rabbits on the farm, and even (don't tell Peta and Charlie) hunting rabbits!
These two are placid, gentle creatures who love nothing more than sitting on a lap. Our visiting Mobile Vet, who regularly drops in to check up on their general health and give inoculations, speaks highly of how well trained and calm they are. Peta and Charlie have been an amazingly beneficial addition to the BASScare family. Families ae also welcome to bring in house trained pets to visit.
Garden & Courtyards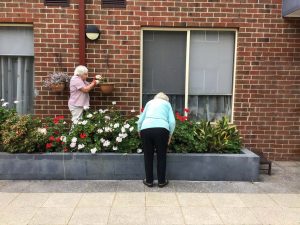 A garden lover's dream home, Faversham House is surrounded by delightfully landscaped gardens. Residents can relish in our secure and charming courtyards, detailed with a water feature, (list trees). Residents can either take a stroll through the dappled light or indulge their green thumb in our raised veggie beds. We always strongly encourage them to use the gardens to their heart's content.
Safety Zone
Creating safe and secure environments for our residents is of utmost importance to BASScare. Faversham House features comprehensive safety, monitoring and security systems across common rooms, keypad access to certain areas and secure courtyards and gardens. For piece of mind, Faversham House is fitted with wandering alarms so that staff are notified if residents are exploring the premises.