Staying Connected
It has been fantastic to see so many of you resuming activities during November! We would like to thank you for your continued cooperation in making sure we follow the necessary COVID safe requirements at our Community Centres.
As we look to wind up 2021 with bang, we will be holding our special Christmas themed lunches. We will be taking a short break from some of our activities over the Christmas and New Year period with the last day for the majority of programs being Friday 17th of December. Some limited exercise programs and dining will continue until we fully reopen again on Monday January 10th.
Newsletter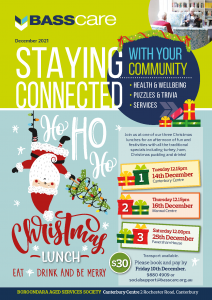 Weekly Social Activity
Social Activity Programs
Group Exercise Classes $12:

Tuesday 10am – Novice with Anne Fisher Tuesday 11.15am – Novice with Anne Fisher
Wednesday 10am – Intermediate with Bob McQuillen
Thursday 10am (Marwal) – Intermediate with Matthew Azzopardi
Thursday 10am (Canterbury) – Advanced with Sue McQuillen

Brain Games – Interactive learning and puzzles with Garry $5
Craft Group – Sewing, knitting and much more! – $5
Allied Health & Hairdressing Services
Podiatry – Fortnightly at Canterbury and Marwal Centres – Starting from $12
Exercise Physiology – One to one sessions with a qualified and experienced instructor – Starting from $20
Hairdressing – Fortnightly at Canterbury and Marwal Centres – Cuts starting from $20 (Men) and $25 (Ladies).
Coming Soon – we'll keep you posted
Due to the COVID-19 restrictions we are currently unable to offer transport and the following centre-based activities and lunches this month. We are constantly reviewing and assessing options for these services to return as soon as possible. We'll be sure to keep you updated as soon as we have confirmed resumption dates.
Learn Laugh and Lunch – Guest speakers and presentations on a wide variety of topics
Art Group – Painting, drawing and pastels
Pottery – Creating with Clay $15
BC Connected – One to one help with technology – FREE
Movie Afternoon – Selection of new and classic movies and documentaries
Community Dining