Staying Connected
ADAPTABILITY IS KEY! We are looking forward to seeing you in the coming months. As we approach the day we meet again, we are balancing caution with not going overboard. And it is tricky!
After slowly beginning one-on-one services in June with Exercise Physiology, Podiatry and then Hairdressing, in July* the first group activities will resume. A three month break in regular exercise will be noticeable for all of us, so first back are the exercise classes for the body, brain games for the mind, and craft for the fingers!
Outings all have complications and we are working through the practicalities of running a bus service on a bus that carries fewer people than a car!
It is wonderful that the number of active cases of COVID remains low. While we have had a small number of cases in Victoria at the time of writing, it seems our health system is now in a position to be able to deal with any outbreaks.
As we welcome you back to the Centre, we will be keeping you, our staff and volunteers safe and asking you to follow the precautions we are now putting in place. You will have received a copy of our letter outlining the new procedures for safely attending activities at BASScare during the time of COVID.
It will be very difficult for all of us to refrain from offering one another cups of tea and a quiet place for a chat. However, if we remain vigilant, the likelihood is that some of our behaviours will return to new normal sooner than it seemed they might.
Hoping to welcome you back soon,
Vicki Bayly
Social Activities Manager
Newsletter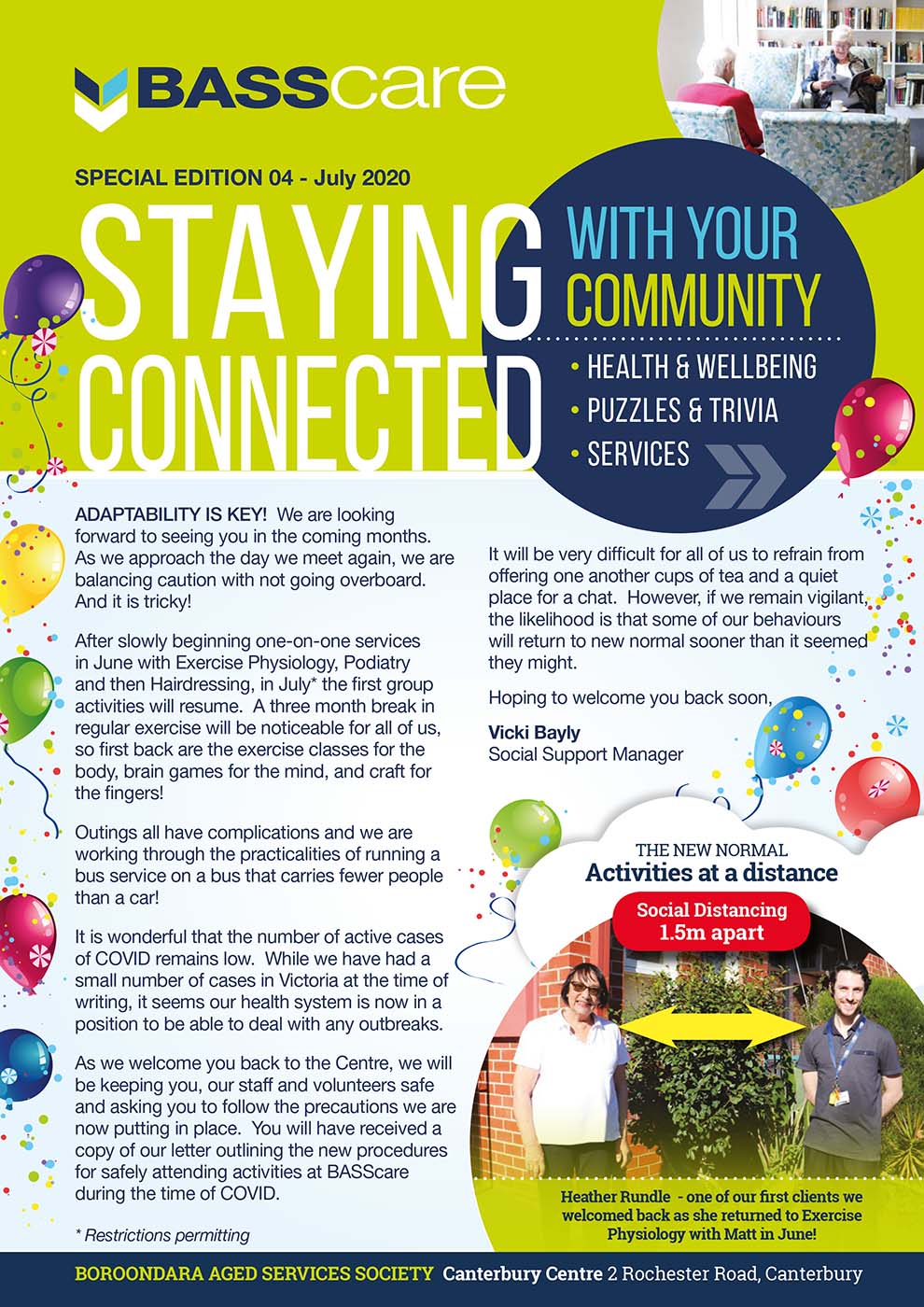 Weekly Social Activity
Social Activity Programs
Group Exercise Classes $12:

Tuesday 10am – Novice with Anne Fisher Tuesday 11.15am – Novice with Anne Fisher
Wednesday 10am – Intermediate with Bob McQuillen
Thursday 10am (Marwal) – Intermediate with Matthew Azzopardi
Thursday 10am (Canterbury) – Advanced with Sue McQuillen

Brain Games – Interactive learning and puzzles with Garry $5
Craft Group – Sewing, knitting and much more! – $5
Allied Health & Hairdressing Services
Podiatry – Fortnightly at Canterbury and Marwal Centres – Starting from $12
Exercise Physiology – One to one sessions with a qualified and experienced instructor – Starting from $20
Hairdressing – Fortnightly at Canterbury and Marwal Centres – Cuts starting from $20 (Men) and $25 (Ladies).
Coming Soon – we'll keep you posted
Due to the COVID-19 restrictions we are currently unable to offer transport and the following centre-based activities and lunches this month. We are constantly reviewing and assessing options for these services to return as soon as possible. We'll be sure to keep you updated as soon as we have confirmed resumption dates.
Learn Laugh and Lunch – Guest speakers and presentations on a wide variety of topics
Art Group – Painting, drawing and pastels
Pottery – Creating with Clay $15
BC Connected – One to one help with technology – FREE
Movie Afternoon – Selection of new and classic movies and documentaries
Community Dining