Staying Connected
We didn't expect to b in lockdown for 8 months! Well done on spending considerable time indoors, washing hands, and keeping 1.5 metres from others. We now have a small victory! There are hardly any cases of COVID-19 in the State, nor the Country.
So let's Christmas together, almost like we used to! With COVID-19 Safe procedures.
Newsletter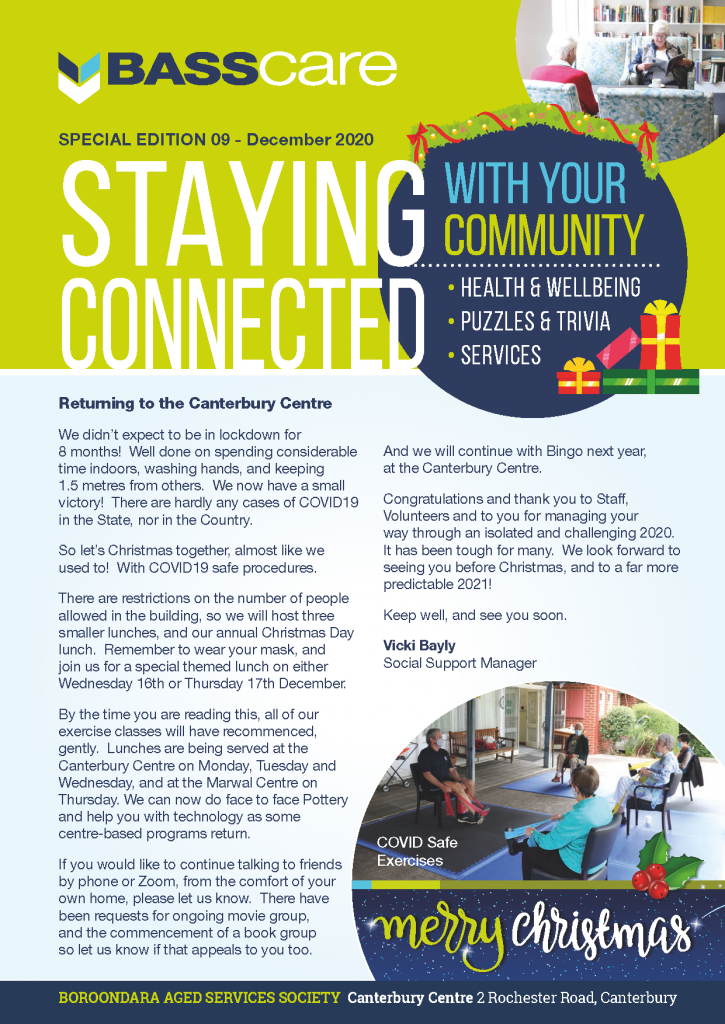 Weekly Social Activity
Social Activity Programs
Group Exercise Classes $12:

Tuesday 10am – Novice with Anne Fisher Tuesday 11.15am – Novice with Anne Fisher
Wednesday 10am – Intermediate with Bob McQuillen
Thursday 10am (Marwal) – Intermediate with Matthew Azzopardi
Thursday 10am (Canterbury) – Advanced with Sue McQuillen

Brain Games – Interactive learning and puzzles with Garry $5
Craft Group – Sewing, knitting and much more! – $5
Allied Health & Hairdressing Services
Podiatry – Fortnightly at Canterbury and Marwal Centres – Starting from $12
Exercise Physiology – One to one sessions with a qualified and experienced instructor – Starting from $20
Hairdressing – Fortnightly at Canterbury and Marwal Centres – Cuts starting from $20 (Men) and $25 (Ladies).
Coming Soon – we'll keep you posted
Due to the COVID-19 restrictions we are currently unable to offer transport and the following centre-based activities and lunches this month. We are constantly reviewing and assessing options for these services to return as soon as possible. We'll be sure to keep you updated as soon as we have confirmed resumption dates.
Learn Laugh and Lunch – Guest speakers and presentations on a wide variety of topics
Art Group – Painting, drawing and pastels
Pottery – Creating with Clay $15
BC Connected – One to one help with technology – FREE
Movie Afternoon – Selection of new and classic movies and documentaries
Community Dining