On the last Wednesday in August every year National Meals on Wheels Day is celebrated. It is an opportunity to highlight the significant contribution that is made to communities across Australia by over 700 Meals on Wheels services and some 80,000 volunteers. BASScare recognises and thanks our MOW volunteers for their selfless contribution to this service. Today however, we also wanted to explore what it means to the staff who contribute to getting our meals on the road! We spoke to Lokesh Matlas, BASScare's Hospitality Manager to understand what working within the Meals on Wheels service means to him.
In Aged Care, the importance of nourishment extends far beyond the basic act of eating. It becomes a cornerstone of well-being and can be a testament to human connection. Lokesh Matlas, the Hospitality Manager at BASScare, embodies this philosophy through his role in leading a dedicated team that prepares the meals for BASScare's Meals on Wheels – a service that goes beyond delivering sustenance to the elderly community within the City of Boroondara.
With a genuine passion for his work, Lokesh has been working at BASScare since 2019. His journey into the culinary world however began in 2006, and since then, he has honed his skills across various establishments, from 5-star luxury restaurants to wineries and resorts. However, it is his work with BASScare that have reshaped his perspective and ignited a deeper sense of purpose.
Lokesh shares, "Our role in Aged Care and Meals on Wheels feels profound. As Hospitality Manager, I lead a dedicated team, including Head Chefs (counting David Ford who you see in the photos), Chefs, Cooks, and Kitchenhands. Our work holds immense importance as we provide more than nourishment – we offer connection and dignity to our elderly community members."
The impact of Meals on Wheels transcends the plate. It embodies the essence of enriching lives through food, offering a sense of companionship and support to those who may be living alone or facing various challenges.
---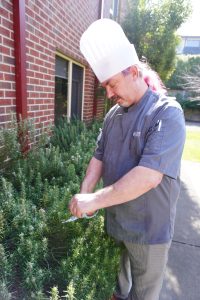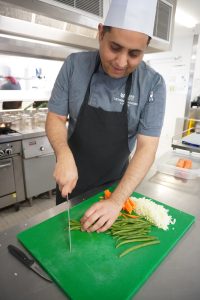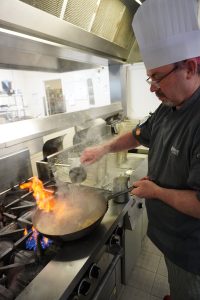 Lokesh proudly shares, "we try and grow as much produce on site as possible."
---
"At Meals on Wheels, we hold a profound understanding of the significance of food and nutrition, particularly for our esteemed elderly clientele. As age advances, our dietary needs undergo a transformation, where the emphasis on nourishment becomes paramount. Our approach is centred on catering to these unique requirements, ensuring that our meals not only provide sustenance but serve as a cornerstone of well-being," Lokesh emphasises.
Maintaining the highest standards of food safety and quality is a top priority. Meals on Wheels adheres to the Food Standards Code set by Food Standards Australia and New Zealand. Lokesh explains, "Our meals are prepared and served within strict standards, diligently delivered by volunteers who also perform welfare checks on the clients. Temperature control is paramount, with daily recordings ensuring hot meals above 60°C and chilled meals below 5°C, facilitated by ice and hot packs."
Lokesh and his team collaborate with dieticians to ensure the menu meets the highest nutritional standards. A new rotating menu is planned for each season winter, spring, summer and autumn. He adds, "Our menu is thoughtfully planned, taking into account client preferences and requests, with the aim of guaranteeing a personalised and delightful culinary experience."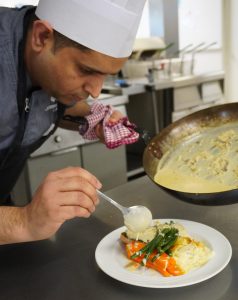 The commitment to excellence extends to sourcing ingredients. "We procure our ingredients exclusively from local suppliers," says Lokesh. From fresh produce to meat and dry ingredients, every item is carefully selected to ensure the highest quality and support for the local community.
But beyond the logistics, beyond the standards, what truly keeps Lokesh and his team motivated is the impact of Meals on Wheels on the local community. Lokesh shares, "This service not only provides nutrition – it also preserves our clients' dignity and independence within the comfort of their homes, where a lifetime of memories and loved ones reside".
As he Lokesh and his team continue to prepare and serve 600 to 650 meals per week, they are not just delivering sustenance; they are delivering compassion, companionship, and a taste of comfort that truly warms the heart.
Please contact BASScare on 9880 4703 if you or someone you know are in need of our Meals on Wheels service or 0447 503 741
if interested in volunteering.
---