Music
Live music lover? So are we! Whether you want to kick up your heels, soft shoe shuffle or toe tap we have the musical events for you. Ranging from wild Spring Time Dances to Classical Pianist concerts and all the in-betweens. We offer live music events not only for the physical experience it brings but the emotional experience music can have on us too.
Play Music
BASScare is excited to share that we have teamed up with Canterbury Neighbourhood Centre and their Pre-School Group to run an Intergenerational Music Group with our BASScare clients. We know how positively music can affect an individual and their wellbeing. We decided it was about time we offered a musical morning every week, so we created a group that would offer enhanced wellbeing, positive interactions between generations and fun for all through music, play and other multi-sensory activities.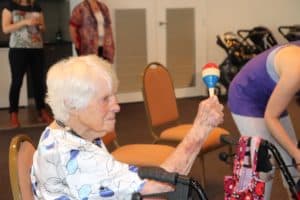 Date: Friday 8th February, weekly for 8 weeks
Check the Calendar for more information
Time: 10.30 AM – 11.15 AM
Place: Canterbury Centre, 2 Rochester Road, Canterbury
Cost: $15 per session, you are able to bring a recognised carer or support person free of charge**Conditions apply
Book Now: 03 9880 4709
If you aren't currently a BASScare client but want to join it is as easy as 1,2,3, call for more information.
Inventi Ensemble Concert Lunch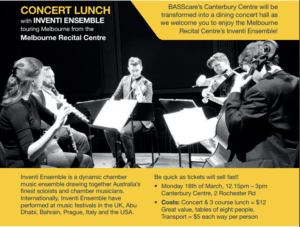 Live Music Mondays
Head over to Marwal Centre from 1.00PM onwards to enjoy a new performer every week! Kick up your heels or clap along from your chair, all abilities are welcome to enjoy the musical offerings and have some fun with friends new and old.
Marwal Centre, 9 Marwal Avenue, North Balwyn
KATO
Frequent visitors to BASScare, KATO is a legendary duo that delivers the best tunes to dance to! You can catch their performance at one of our annual seasonal dances.
Film
We've got your Wednesday afternoon covered with a fantastic film, popcorn and icecream on offer. Check out the Community News Calendar to see what's showing each Wednesday 1:30pm.